The MOMologues Ready to Open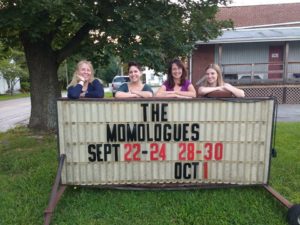 Moms have the hardest job in the world. The cast of The MOMologues will prove that to you in the opening show of Hanover Little Theatre's 69th season.
The show opens with an 8 p.m. performance on Friday. Opening Weekend also features an 8 p.m. performance on Saturday and a 2 p.m. performance on Sunday. The show's run concludes next weekend with 8 p.m. performances on Sept. 28-30 and a 2 p.m. matinee on Oct. 1.
Tickets are on sale now. All tickets are $15 with discounts available for seniors, students and groups of 10 or more.
Four Moms share the funny and honest stories of the differences between raising boys and girls, how to handle the Tooth Fairy, picky eaters, discipline, kids peeing on the playground and all the rest of the real-life comedy that is motherhood.
Some faces familiar to regular patrons will mix with one newcomer to form director Brian Shea's cast. Nikki Bull (Run for Your Wife and 25th Annual Putnam County Spelling Bee), Wendee Dunlap (The Old People Are Revolting) and Courtney McDougall (Five Women Wearing the Same Dress and Sin, Sex and the C.I.A.) will be joined by Christina DiNicolo in her first show at HLT.
The theatre will once again raise funds for a local nonprofit community partner in conjunction with the show. The partner for this show is Toys for Tots.
HLT will donate $2 to Toys for Tots for every ticket sold to the Saturday, Sept. 23, performance. Sommer & O'Donnell – Attorneys at Law as well as an anonymous patron will match that donation, generating $6 for every person attending Sept. 23. Additionally, monetary donations for Toys for Tots will be accepted at all seven performances.
Since inaugurating this effort in November 2014, the theatre has donated more than $6,000 to a variety of area groups.