'Incorruptible' a Big Success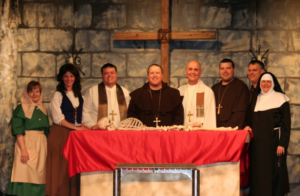 Congratulations to the cast of Incorruptible for an incredibly successful run. The show had sellouts or near sellouts for all seven performances. What a great way to start 2017 at HLT!
The theatre will be making a $1,025 donation to the Hanover Area Council of Churches, our non-profit partner for this production. The theatre donated $2 for every patron at the sold out Saturday, April 1 show and two anonymous donors and Sommer & O'Donnell – Attorneys at Law matched that donation. Patrons also made donations throughout the production to reach the final total.
Our next show will be Funny Business – The Musical. Auditions will take place at 7 p.m. on Sunday, May 7 and Monday, May 8 at the theatre.