'Little Shop' Auditions Announced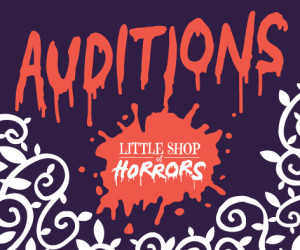 Auditions for Little Shop of Horrors will be held at 7 p.m., Monday, December 14 and Tuesday, December 15 at Hanover Little Theatre, 360 Blooming Grove Road, Hanover.
Those who attend the first night of auditions may be asked to attend the second night of auditions as callbacks.
Please prepare a musical selection (16-32 measures) from a musical in the style of the show. An accompanist will be provided. A CD player and Speakers to connect to electronic devices will also be available if needed. Please no a cappella auditions.
You may be asked to sing a selection from the show so familiarizing yourself with the score is a plus. There may also be readings from the script, as well as being taught minor dance routines.
The show runs April 8-10; 14-17, 2016. Please bring any known conflicts from January through the show's closing to auditions. No conflicts will be accepted during performances or the week leading up to opening. The rehearsal schedule will consist mainly of weekday evenings and possibly weekends. Because of the small cast size, a set schedule will be built around actor availability.
Any questions or if you're interested but can not make auditions, please feel free to contact the director, Jeremy Slagle, at jeremy.slagle@yahoo.com. Auditions are open to those 18 and older.
ALL ROLES AVAILABLE
SEYMOUR KRELBORN An insecure, put-upon florist's clerk and eventual hero. He is a genuine, well-meaning man who is taken for granted because of his clumsy ways and poor social skills.
Male, 25-35 yrs old, Range: A2 – G4
AUDREY Bleached-blond, Billie-Dawn-like, secret love of Seymour's life. She has poor self-worth and education, but incredibly good looks and a sweet and vulnerable demeanor.
Female, 25-35 yrs old, Range: G#3 – D5
MR. MUSHNIK The seasoned owner of the failing East Side flower shop and Seymour's nosy boss. He is profit-driven, greedy, and manipulative.
Male, 55-65 yrs old, Range: G2 – F4
ORIN SCRIVELLO An egotistical dentist with a passion for leather and sadistic tendencies. Audrey's abusive boyfriend, who is targeted by Seymour.
Male, 30-40 yrs old, Range: G2 – G4
VOICE OF AUDREY II An actor/vocalist located offstage. The voice is that of a conniving, street-smart 'villain.' A funky Rhythm and Blues voice.
Male or Female, 20-50 yrs old, Range: G2 – G4
CRYSTAL, RONNETTE AND CHIFFON Street urchins, acting as the Greek Chorus. Young, hip, and smart, these girls have a grip on reality on life in Skid Row.
Female, 20-35 yrs old, Range: Ab3 – F5
ENSEMBLE/STAGE CREW/PUPPETEERS (A GROUP OF 4-5 ACTORS/ACTRESSES) This group, in addition to various cameos and serving as the ensemble during some musical numbers, will assist with set and costume changes, help maintain backstage and possible puppetry work. This essential team is the backbone to this production and will be kept busy making sure things run smoothly.