'Run For Your Wife" Tickets On Sale

Hanover Little Theatre (HLT) will raise money for the Hanover Relay for Life event with a wild, British farce as the backdrop.
During HLT's upcoming production of Ray Cooney's Run For Your Wife, one show will benefit Relay for Life while patrons at six other performances will have the opportunity to donate to support the cause.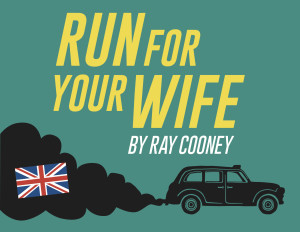 Each ticket sold for the Saturday, Nov. 14, show will mean a $4 donation for Relay for Life. The theatre will donate $2 per ticket and an anonymous patron will match that gift. This marks the fifth straight show that HLT has partnered with a local non-profit organization, raising a total of nearly $2,000.
The show will have 8 p.m. performances on Nov. 13, 14 and 19-21. There will be 2 p.m. matinee shows on Nov. 15 and 22. A reception will follow the Friday, Nov. 13 Opening Night performance.
Directed by Mark C. Franceschini, Run For Your Wife is a quick-paced farce featuring misunderstandings, slamming doors and an unmistakable charm.
John Smith lives quite a life–or lives, to be more accurate. Because of his odd work schedule, this London taxi driver manages two households, with a different wife in each. After he is knocked unconscious during a mugging, a police investigation begins to unravel his double life.
Michael Baker stars as John Smith with Nikki Bull playing Mary Smith and Vanessa Burke playing Barbara Smith. Jeb Beard will play Stanley, a neighbor to one of the wives, while Shane Jacoby will play Bobby, a neighbor to the other wife, as well as a newspaper reporter. Donovan Snyder and Kathy Blake will play the police detectives who try to make sense of Smith's confusing life.
Tickets for Run For Your Wife are on sale now or by calling 637-5297. Messages for phone orders will be returned within 72 hours. Online ticket sales and memberships are available around the clock. Tickets are $12 for adults with discounts available for seniors, students and groups of 10 or more.
The theatre will also open its box office the two weekends prior to each show to give patrons the opportunity to buy tickets. Volunteers will be available at the theatre (360 Blooming Grove Road, Hanover) on the following days.
Saturday, Oct. 31, 10 a.m.-noon

Sunday, Nov. 1, Noon-2 p.m.

Saturday, Nov. 7, 10 a.m.-noon

Sunday, Nov. 8, Noon-2 p.m.