Murder Mystery Dinner Theatre Scheduled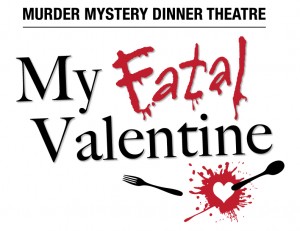 The writers nominated for the prestigious Loveknot Award by publisher Heartthrob Books have already captivated their readers with tales of thrilling romance. But soon these antagonistic authors will make a name for themselves in another arena — murder!
Come join Hanover Little Theatre (HLT) for "My Fatal Valentine," an audience-participation murder mystery dinner theater production on Saturday, Feb. 8, at the Hanover Elks, 47 N. Forney Ave., from 6:30 to 10 p.m.
Tickets are $25 per person and include dinner and an entertaining evening of intrigue and back-stabbing (maybe literally). Tickets will be available beginning Thursday, Jan.2, online at www.hanoverlittletheatre.com or by calling 717-637-5297. Processing fees may apply.
Actors from some of your favorite HLT productions will portray the characters in the show which will take place throughout the night. The person in the seat next to you may end the night in handcuffs … or worse. Audience members will get the opportunity to mingle with the authors and could play a role in fingering the culprit at the end of the night.
The dinner menu features chicken, roast beef, green beans, whipped potatoes, roll and butter and cherry cobbler. Complimentary soft drinks, coffee and tea will be available, and there will be a cash bar. The cocktail hour will start at6:30 with dinner beginning at 7 p.m. The program will follow.
Come enjoy this night of excitement and laughter while supporting two local organizations.