Category Archives:
Auditions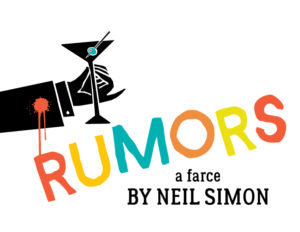 Hanover Little Theatre will hold auditions for "Rumors," the third show of the 2017-18 season, at 7 p.m. on Sunday, January 21 and Monday, January 22, at the playhouse, 360 Blooming Grove Road.
Michael Baker will direct the Neil Simon comedy. Just before his 10th wedding anniversary party, the Deputy Mayor of New York passes out from taking Valium after unsuccessfully trying to shoot himself in the head, and his wife is nowhere to be found. Their friends try to cover up the circumstances from arriving guests, but miscommunication and confusion fuel this Neil Simon farce. The show will run April 20-22, 26-29, 2018.
The cast features five men and five women. Adults of all ages and experience levels are encouraged to audition. The audition will feature readings from the play.
If you wish to audition, but are not available, please e-mail info@hanoverlittletheatre.com to make alternative arrangements.