Improv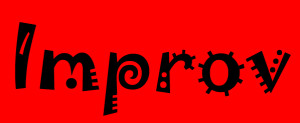 In early 2016, Hanover Little Theatre began to hold improvisational comedy workshops led by board member Brian Shea. The workshops gave participants the opportunity to learn the basic skills of long-form improv. After several workshops, plans started to bring improv performance to Hanover.
But, first, the performance troupe needed a name. Working off the use of the initials HLT, board member Erin DiNello struck paydirt with the name Hot Like Tinder. Since most of the participants in the first performance never had the pleasure of swiping right (or left or whichever direction you kids swipe in order to meet someone), the name seemed to fit perfectly.
Hot Like Tinder debuted at an open mic in downtown Hanover at Whirled Records. The performance by the only non-musical performers of the night led the host to say "I don't think I have seen anything like that at an open mic before."
Mission accomplished.
We continue to hold workshops and introduce new people to the fun and power of improv. Hot Like Tinder will perform occasionally at events and other troupes are sure to follow.