Theatre Donation Benefits Local Churches
The tenth show in Hanover Little Theatre's non-profit donation program has set a new standard of success. Thanks to the generosity of three matching donors, the theatre recently donated $1,025 to the Hanover Area Council of Churches (HACC), our non-profit partner for the production of Incorruptible.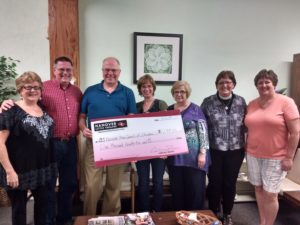 This was the largest donation the theatre has made. The theatre donated $2 for every patron at the sold out Saturday, April 1 show and two anonymous donors and Sommer & O'Donnell – Attorneys at Law matched that donation. Patrons also made donations throughout the production to reach the final total.
HLT board members Bonnie Raubenstine, a cast member in the show, and Leslie Breighner, recently presented the check to HACC officials. Pictured, from left, Raubenstine, HACC Ministries Board members Dave Miller, Henry McLin and Nancy Werner, HACC executive director Carol Hinkle, HACC president Pastor Kate Schroeder and Breighner.
Since inaugurating this effort in November 2014, the theatre has donated $5,325 to a variety of groups. The upcoming production of Funny Business will benefit Main Street Hanover, Inc.