Auditions Coming Up Soon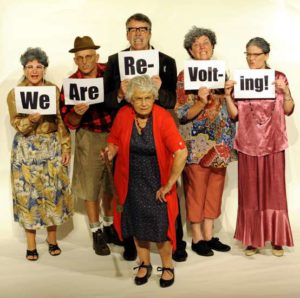 We're getting ready for Season 68 – Auditions for The Old People Are Revolting, a comedy, are Monday and Tuesday, July 25 and 26 at 7 p.m. at the theatre (360 Blooming Grove Road, Hanover). Actors of all experience levels are encouraged to audition.
The cast features five women and two men. One role is for a woman in her 20s or 30s. All other roles are to be played as senior citizens.
In the show, a group of seniors at the Sunshine Retirement Village take their grievances into their own hands with hilarious results. The show, directed by Beau Bowden, will run Sept. 9-11 and 15-18, 2016.
The audition will feature readings from the play. You do not need to attend both nights of auditions for consideration. Please e-mail info@hanoverlittletheatre.com with any questions.