Donation Program Continues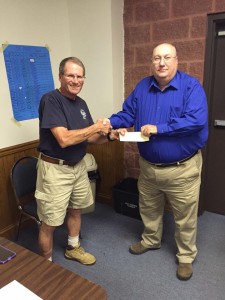 Our production of Bingo! The Winning Musical raised $500 for the Pleasant Hill Volunteer Fire Company (PHVFC).
The theatre donated $2 for each ticket sold for the Saturday, July 11, show to PHVFC, and an anonymous donor generously matched that donation. A "Fill the Boot" campaign at the other six performances also supported this effort.
Board member and Bingo! director Charlie Beard (right) recently presented PHVFC President Mike Hampton with a check for $500 raised during Bingo! to support the organization in its efforts. Hanover Little Theatre (HLT) raised $1,598 for local organizations last season.
HLT will open its 67th season on Sept. 11 with a production of Neil Simon's Last of the Red Hot Lovers. The non-profit partner for this show will be the Hanover Area Jaycees, specifically to support the annual Hanover Halloween Parade.
The theatre and an anonymous donor will team up to donate $4 for every ticket sold for the Saturday, Sept. 12, show to Jaycees. Donation jars will be available at all shows for patrons to support the cause.