Memberships for 67th Season on Sale
Reserve your favorite seat for every show in the 2015-16 season with a Hanover Little Theatre membership, now available. Support the arts in your community and see four productions at Hanover's only all-volunteer community theatre.

We have four different membership levels which include flex tickets useable at
any show during the season
. All Membership Plans include your name in the program as well as voting rights at the annual meeting.
As a Golden Ticket Benefactor, Angel, Patron of the Arts or Supporting member, your membership and ticket package is vital to our theatre's ability to continue to put on performances at affordable prices as well as maintaining and updating the theatre.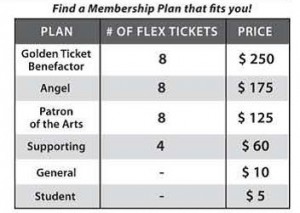 Memberships allow the theatre to cover costs of productions, including royalties, utilities and show production costs as well as ongoing maintenance and upgrades, such as carpeting, painting of the theatre's interior and updated electrical service.
By purchasing a membership plan, you are helping to ensure that Hanover Little Theatre, the area's only all-volunteer theatre, continues to provide live entertainment for you and our community.
We also have season ticket packages which includes one seat you choose per show. You can reserve the seat at the beginning of the season for $45.
Visit our membership and ticketing page or call the theatre at 717-637-5297.