'Five Women' Tickets on Sale Now
Tickets are now on sale for Five Women Wearing the Same Dress, which takes a comic look at five reluctant, identically clad bridesmaids avoiding the reception. As the afternoon wears on, these five very different women joyously discover a common bond in this wickedly funny, irreverent and touching celebration.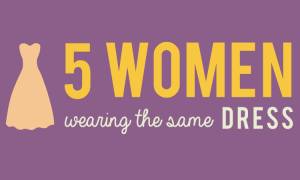 For the second straight show, Hanover Little Theatre will raise funds for a local organization during the show. Still Waters Transition House, a Hanover-based residential program for victims of domestic violence and their children, will serve as our partner.
The theatre will donate $2 for each tickets sold for the Saturday, April 11 show to Still Waters. We will also have donation jars available at all performances.
Jeremy Slagle will direct the debut work of Alan Ball, best known for his award-winning films and television shows such as American Beauty, Six Feet Under and True Blood. 
Courtney McDougall (Frances), Ana Rosenbrien (Meredith), Kiara Denver (Trish) Erin DiNello (Georgeanne) and Marisa Hoover (Mindy) will star as the bridesmaids with Jeb Beard (Tripp) rounding out the cast.
The show will run April 10-11 at 8 p.m., April 12 at 2 p.m., April 16-18 at 8 p.m. and April 19 at 2 p.m. A reception sponsored by Rose's Pizza and Restaurant will follow the Friday, April 10 Opening Night performance. The show is recommended for mature audiences.