HLT Receives Donations
The Hanover Little Theatre has received a pair of donations that will help Hanover's only all-volunteer community theatre continue its tradition of providing live entertainment for the community.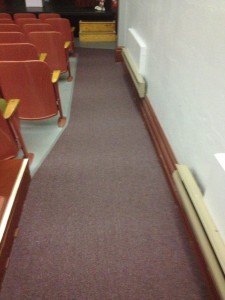 The McSherrystown Home Association provided a donation which helped the theatre the purchase and installation of new carpet for inside the playhouse, located at 360 Blooming Grove Road. By adding the carpet along the side and back aisles, HLT will enhance the experience for patrons.
Local Realtor Randy Hilker donated a table saw for set construction. Directors and other volunteers design and build all the sets for HLT's season of four shows. The saw will replace an older model that had outlived its usefulness.
"We appreciate this support from local businesses," said HLT President Don Aumen. "As we complete our 64th year of 'acting up,' we're thankful the community continues to find what we do important to the Hanover area."