Wally's Cafe
Buying a hamburger shouldn't be a problem for Wally. Except the hamburger is a restaurant, and he hasn't told his wife all of the details.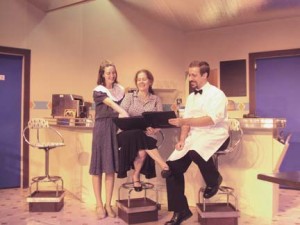 Wally goes across country from New Jersey to California to purchase a cafe so that he can get away from his wife's family. Louise, his wife, follows him weeks later, and worries from the start that they have made a big mistake, especially serving pot roast in a diner shaped like a burger.
There is also Bernie's Diner, their competition, which is doing great, perhaps because they are next to the only road in this part of the Mojave Desert. A naive, young girl on her way to Hollywood enters the cafe on the first day of Louise's arrival. The fun begins!
You will share laughter and tears as you follow these three through the decades—from the 1940s to the '80s. The cast includes Paul Oakes as Wally Murdock, Heidi Hormel portrays his wife, Louise, and Nikole Bull completes the cast as Janet Chester.
Directed by Sally Chase, the show ran Sept. 16–19 and 23–25.